To celebrate our previous Show of the Week we caught up with the new Wizard in Wicked, the wonderful Mark Curry.
What's it like joining one of the longest running musicals in the West End?
Obviously very exciting especially now that I'm starting to really relax and enjoy my scenes.  At first it was a bit daunting, even for me who has been around a LONG time!  I'm stepping into a phenomenally successful show and following in the footsteps of some excellent, "Wizards". The energy and good vibes from cast and crew makes being in the show great fun.
Can you describe Wicked in 3 words?
Captivating, spectacular, unforgettable
Why did you want to play the Wizard of Oz?
Wanted to play The Wizard because I thought I could bring my energy to the character.  It's a challenge to bring out his darker, ambitious side as well as his basic kind and gentle personality.  He's actually a bit of a sociopath who can't resist the the opportunity to be adored and famous.
What's your favourite part of the show?
A favourite scene I'm in is during Act 2 when I get to perform the song, "Wonderful", which tells you everything about the Wizard's character.  The scene has tremendous tension between The Wizard and Elphaba.  They could potentially destroy each other at this point so he has to work hard to soften the situation.  A scene I'm not in but I really enjoy hearing is when Elphaba arrives at University, culminating in her singing, "The Wizard And I".  A top show tune.
You've done a lot of television in your career, how does this compare with being on the stage?
Acting on television is so different from being on stage. In both areas the actor has to be truthful but in a theatre such as The Apollo Victoria, which is so big, the performance has to reach the back of the circle and still be real.  On telly you can keep everything very subtle and small. Presenting on TV is totally different from the stage.  When I'm presenting, I'm being myself, it's not a performance.  For me, live telly and live theatre are both such a buzz.
You presented Blue Peter in the 80's, can you tell us your funniest memory from working on the show?
Probably when I knocked the head off a life size model of a man made out of Lego.  The entire studio collapsed into laughter and the 5 million viewers who were watching probably fell off their sofas in hysterics.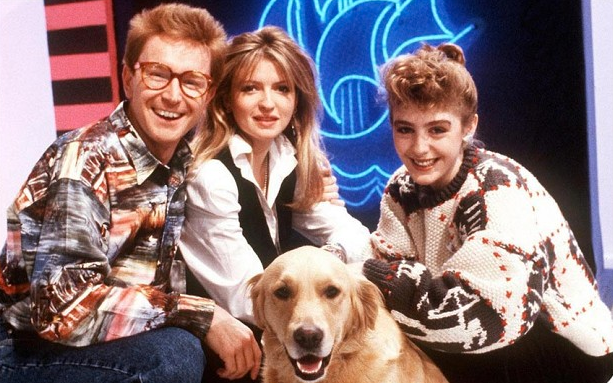 What inspired you to get into acting?
As a kid I watched a lot of amateur plays and musicals and I remember being captivated. Then when I was about 9 years old I played one of the babes, (the other was Bonnie Langford), in a television panto filmed at The Alhambra Theatre in Bradford.  When I stood on that stage and looked out, I just knew that the theatre is where I wanted to be in the future, and here I am in the West End!
If you could be on stage with anyone in the world who would it be?
I was in, "Noises Off", with the wonderful Millicent Martin and we became great friends.  To do something with her again would be terrific.  She has such energy and stage presence. Tom Hanks would also be great, I just love his performances.
What's the best piece of advice you've ever been given?
Two bits actually: Stay in the moment, forget what's just happened or what you'll be doing in the next scene AND never take what anyone says about your performance personally, whether it's good or bad.
Can you tell us something people might not know about you?
I ran a dating agency for 3 years !
Thanks Mark!