The amazing power of music is its ability to encapsulate a memory, feeling, story, message or emotion and immortalise it forever. For centuries, black artists and musicians have been doing just that: sharing their stories, lived experiences and what they stand for through their craft; and along the way creating new genres, smashing records, making waves, changing lives and so much more.
So what better way to honour Black History Month 2020 than with a celebration of some of the world's most successful, influential, game-changing and revolutionary black musicians. Choosing ten of our personal favourite artists (as we couldn't possibly write about everybody!), in no particular order here are See Ticket's ode to iconic and rising star black artists.
Iconic Musicians
Rihanna

With sales of over 250 million records worldwide, Rihanna is one of the best-selling music artists of all time and is not only a pop icon but a fashion one in her own right. Aside from music, Rihanna is the founder of 'Fenty Beauty' and the fashion house, 'Fenty', in which she has been praised for creating beauty products in a diverse range for all skin colours, and lingerie which celebrates fearlessness, confidence and inclusivity.  Throughout her career in music, she has won nine Grammy Awards, had 30 top-ten entries in the UK and has released eight studio albums, cementing her place as one of the biggest music artists in the world.
Bob Marley

One of the most defining figures in reggae and putting Jamaican music on the map across the world; to this day Bob Marley is still a certified icon of musical pioneering, Rastafarianism and spirituality, activism and world peace around the globe. This dedication to innovation through music has made Marley a foundation in modern music today, and with that it's no surprise he's in the coveted Rock and Roll Hall Of Fame and one of the best-selling artists of all time. It's not just his music that has changed the world though, his deep devotion to combating oppression, often reflected in his songs, is just another marker of his outstanding legacy.
Beyonce

Since 17 as part of R&B powerhouse Destiny's Child, Beyonce has been an international superstar, philanthropist and icon. Her tenure within the music industry has repeatedly pushed boundaries, and challenged the typical constructs of pop music. It's undeniable that she has time and again proven herself to be an innovator and leader in her field. Aside from her multitude of achievements as a musician, Beyonce has consistently been a key and crucial voice for women and the black community. In 2016, she lit up the stage on her Mrs Carter World Tour with the word "FEMINIST". In addition, the BeyGOOD Foundation has helped countless black communities around the world since its initiation, and continues to provide support for worldwide causes such as mental health awareness, COVID-19 relief and so much more.
Stormzy

"I am young, black, beautiful and brave"
A grime heavyweight, bringing the genre to the forefront of British music within the last decade; when Stormzy does something, he does it well. Therefore, it's no surprise the Croydon superstar holds the title for first grime album to reach number one in the UK and first rap album to win a BRIT Award for British Album of the Year. But it's not just music that Stormzy pioneers at, within the last few years Stormzy has put social, economic, and political issues first with innovative, life-changing initiatives. Whether it's a partnership with literary giant Penguin to give under-represented voices a platform through #MerkyBooks, or championing black British talent by funding scholarships for black students at the University of Cambridge; Stormzy's lyrical empowerment always translates into action.
Whitney Houston

Whitney Houston is undoubtedly one of the greatest singers of all time. With sales of over 200 million worldwide, Whitney was the most awarded female artist of all time according to Guinness World Records.  She was not only the first black female singer to take over MTV, but her impact on the pop-culture landscape was huge and she paved the way for those who came after her.  V Magazine stated that she 'was the voice of a generation — a true talent and star far surpassing those around her. To this day, her voice and her music remain virtually unmistakable, a testament to the salience of her creative body of work which spans decades', and we couldn't agree more.
Rising Stars
Little Simz

Top Boy star and indisputably influential hip-hop, grime and experimental talent Little Simz is undoubtedly cutting edge within the sphere of British music today. Self-proclaimed as unapologetic in what she does and stands for, Simz has the admirable ability to switch from razor-sharp, home-hitting bars to emotionally-charged, celestial almost lullaby type hits; as seen in latest EP 'Drop 6'. There's no doubt she's wise beyond her years and a true gift to expressive, powerful and progressive music; only further reflected in her recent NME and Ivor Novello Award wins for latest studio album 'Grey Area'. We can't wait to see what Little Simz has in store for us next.
Mahalia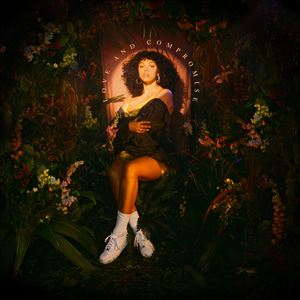 Known for her beautiful, enchanting voice and catchy songs, alt-R&B/soul singer and songwriter Mahalia began her musical journey at just the age of thirteen. Performing live on the John Peel stage at Glastonbury in 2019, she has since headlined her own tours, sold out huge venues, and is in great demand to be booked by festivals. This year, Mahalia was nominated for the Female Solo Artist award at the BRITs and released singles and EPs including 'Isolation Tapes'. Mahalia has also been known to be an advocate for body positivity on her social channels spreading the important message to her followers to 'love themselves'. If you haven't listened to her recent music, we strongly advise checking it out!
Dave

Multi-talented rapper Dave (also known as Santan Dave) has seen significant rise over the last two years. Dave's album 'Psychodrama' earned him the 2019 Hyundai Mercury Prize and most recently in 2020, he executed a show-stopping and heartfelt performance of song 'Black' at the BRITs. 'Black' was released in 2019 and consists of clever and moving lyrics where important issues for the black community are touched upon.
"Look, black is beautiful, black is excellent, black is pain, black is joy, black is evident".
FKA Twigs

The English singer-songwriter and dancer has released two albums since 2014, 'LP1' and 'MAGDELENE'. Her work has consistently made the top album lists on prestigious music publications, with Pitchfork describing MAGDELENE as "not just on the vanguard of pop, it's in a breathtaking class of its own".  FKA Twigs draws on a multitude of genres when creating her music, including electronic, trip-hop, R&B and avant-garde, and has hit out at critics for classing it as R&B, simply due to her race. Recently FKA Twigs has used her platform to amplify the voices of sex workers, having taken influence in her performance style from pole-dancing. Her ethereal aesthetic and spine-tingling performances have cemented her as one of music's rising stars.
Jorja Smith

Walsall-born Jorja Smith has repeatedly been heralded as a huge talent since 2016, and it's clear her career is on course to be stratospheric. As a result of years of hard graft, touring and writing constantly, Smith is proof that success in today's industry doesn't have to come as a result of coming from London, making it in America or major label support. From humble beginnings, she's seen support and collaboration from a number of international stars including Stormzy, Drake, Kendrick Lamar and Burna Boy, and has won multiple awards in her relatively short career, which includes two BRIT Awards. After winning a MOBO Award and gaining a huge following off the back of her debut single 'Blue Lights' - released independently - Smith proved she was a force to be reckoned with, and continues to do so today.
Listen to our curated Black History Month 2020 playlist, full to the brim of iconic, rising and up-and-coming black artists on Spotify:
Keep up to date with your favourite artists, priority bookings and exclusive offers from See Tickets:
Facebook Twitter Instagram Messenger Newsletter
Whitney Houston image: PH2 Mark Kettenhofen, Public domain, via Wikimedia Commons
Bob Marley image: Eddie Mallin, CC BY 2.0 <https://creativecommons.org/licenses/by/2.0>, via Wikimedia Commons